What is a Global Bite?
A Global Bite is a simple, short, informal activity designed to get people of all ages to think about global issues. You don't need teaching expertise to organise and run a Global Bite at a fete, fair, meeting, holiday scheme etc.
CONNECT with global issues.
CHALLENGE preconceptions.
and CHANGE the way we think about the world.
Next steps?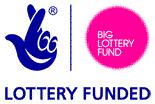 GLADE's Global Bites programme is funded by a Big Lottery grant