What is a Global Bite?
A Global Bite is a simple, short, informal activity designed to get people of all ages to think about global issues. You don't need teaching expertise to organise and run a Global Bite at a fete, fair, meeting, holiday scheme etc.
CONNECT with global issues through activity.
CHALLENGE preconceptions by talking and reflecting
and CHANGE the way we think about and act for the world.
Next steps?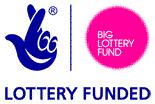 The GLADE Centre's Global Bites were initially funded by a Big Lottery grant. Subsequent Global Bites have been developed by GLADE volunteers, Associates and Workers and funded by The GLADE Centre